Blog
---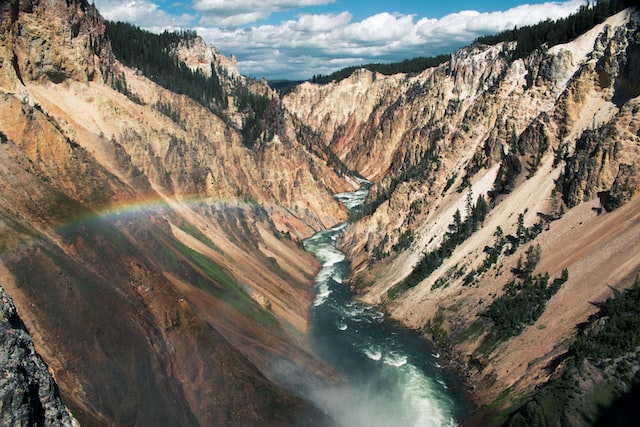 <------ back
What to do in Yellowstone National Park
Posted on Dec 02, 2022
What to do in Yellowstone National Park
The Western United States is full of incredible RV camping destinations and, in many ways, is the perfect place to reserve a Los Angeles rental RV and take to the open road. There is an RV trip for everyone, no matter what type of landscape speaks to you. That said, perhaps nothing is more quintessential American West than a Yellowstone camping adventure. While a bit of a drive in your California RV rentals, there are plenty of exciting places to see along the way. When you arrive and settle into Yellowstone RV camping, it will become immediately obvious why you made the trek. Below are some of the must-see attractions in Yellowstone National Park.
Old Faithful Geyser
Old Faithful is undeniably the most famous attraction in Yellowstone. While often crowded – especially midday – it is just one of those things that you need to see on your Yellowstone trip. It erupts approximately every 90 minutes. While it's not the tallest or most regular geyser in the park, it is the best combination of those two and is a must-see on your Yellowstone RV camping trip.
Geyser Basins
While Old Faithful may be famous, there are many other geyser basins scattered throughout the park. The majority of people that visit the park on Yellowstone camping trips will not leave the road system. As such, many of the geyser basins around the park make for very enjoyable hikes or strolls on the boardwalks. You can avoid the Old Faithful crowds by simply putting in a little legwork on your Yellowstone RV trip.
Grand Prismatic Spring
Another must-see phenomenon in Yellowstone National Park is Grand Prismatic Spring – the world's third-largest hot spring at 370 feet in diameter. Grand Prismatic is also one of the most colorful features in the park, due to its heat, depth, and thermophilic profile. For the best view, take a hiking trail up the ridge behind the spring and enjoy this marvel from above!
Grand Canyon of the Yellowstone
In a park full of geological wonders many visitors balk at the idea of visiting a canyon and waterfall. However, this feature is an absolute can't miss. You have come a long way in your California RV rentals, and it would be a mistake to miss a geological feature that played an integral part in the creation of the National Park Service. One look at the canyon and the falls and you, too, may be inspired to protect the wonders of the natural world.
Hayden Valley
The centrally located Hayden Valley is a stunning landscape often dotted with much of the wildlife that Yellowstone is known for. You will likely drive through the valley on your RV camping trip regardless, but do yourself a favor and dedicate some time to soaking up this beautiful space. Visit during dawn or dusk for the greatest chance of seeing wildlife.
Lamar Valley
If charismatic megafauna is your thing, you absolutely cannot miss the Lamar Valley. Lamar is located far north in the park, making for a long drive in your Los Angeles rental RV. Still, if your goal is to view bears, wolves, and ungulates from a safe distance this valley of life is your best bet. Similar to Hayden, dedicate some early morning or late evening hours to sitting and observing. You will likely have many other wildlife enthusiasts around, and you can always ask what they have seen or are actively observing. This valley is home to more National Geographic moments than anywhere else in the park.
Yellowstone camping trips are absolutely classic RV trips. While we listed the hits above, one of the most beautiful things about Yellowstone National Park is its ability to allow you to choose your own adventure. At 2.2 million acres there is no shortage of places to explore by foot or vehicle, and with California RV rentals you have plenty of campgrounds to choose from to create a basecamp. Reservations do fill up quickly, though, so the sooner you can start planning the better! Give the experts at Expedition Motorhomes a call today – our robust fleet of affordable motorhome rentals is the best in Southern California.