Blog
---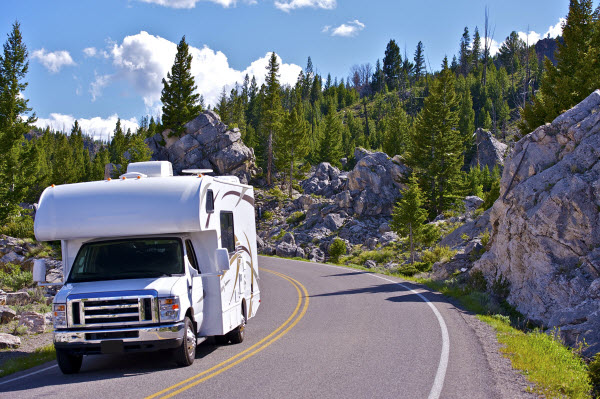 <------ back
What is the Difference Between Class A, B & C Motorhomes?
Posted on Jun 25, 2014
Are you wondering how to rent the right motorhome for your perfect vacation?  Are you confused when looking at all the different options to choose from?  If so, then you've come to the right place.  Read on to learn more about the differences among Class A, B, and C motorhomes.
Class A Motorhome
Class A motorhomes are built using a very strong, heavy-duty frame. These frames are built on either a commercial bus chassis, a commercial truck chassis, or a motor vehicle chassis.  The 18-wheeler trucks use a similar build. The big, 22.5 inch wheels support the heavy load of the Class A motorhome. With 8-10 MPG, the Class A motorhome has the worst fuel economy. There are usually a minimum of two slide-outs. For quality and luxury, the Class A motorhome is the way to go. Plenty of storage space and a roomy interior are what defines the Class A motorhome. 2-4 people can sleep in the motorhome as there is a bedroom located in the back and couches that fold down into beds in the living room area. If luxury, plenty of space, and an interior that resembles home is your concern, then choose the Class A motorhome.  Take a look at our 33 ft Winnebago Voyage in the video below.  There are 2 queen beds and 1 double.  There are 8 seat belts, 2 slide outs, and a towing capacity of 5,000 lbs.  This is the perfect motorhome for luxury and style.
33 ft. Winnebago Voyage
Class B Motorhome
From the outside, the Class B motorhome looks very much like an oversized van. They are also commonly known as camper vans. Inside, the van is tall enough for standing room. Even though there is a kitchen, living room, and a bathroom, it is very small. The toilet and shower are combined into one space.
Most Class B motorhomes do not have slide outs. In terms of cost, these motorhomes are the least expensive out of the three types. Since these motorhomes are the smallest, they are the easiest to drive and have the best fuel economy. Parking the vehicle also isn't a problem because of its size. However, there is very little room for storage as the interior doesn't afford much space. If you value how economical the Class B motorhome is, then this is the one for you. At this time, we do not offer Class B motorhomes.
Class C Motorhome
The Class C motorhome is the compromise between the Class A and the Class B. They are built with a cabin chassis. They are easy to pick out by their overcab sleeping area. The location of the sleeping area allows for more room in the living area. 4-8 people can live in one Class C motorhome. The Class C motorhome is able to tow a separate car so you can leave the motorhome parked while exploring the city in the car. The Class C motorhome has gas mileage somewhere between the Class A and the Class B motorhome. For bigger families that might want to tow a car, take a look at the Class C motorhome.
Take a look at our 31 ft Jamboree in the video below.  With two slide outs, 6 seat belts, and a towing capacity of 3,500 lbs, this is a perfect motorhome for your needs.  It has two queen beds, two doubles, and all the amenities you need to be comfortable.
31 ft Fleetwood Jamboree
Plan your California RV Trip With Us!
Here at Expedition Motor Homes, we want to make sure your trip to California is a memorable one. We have all of the latest and greatest RVs and our friendly staff is more than happy to help you choose the right RV for your trip. Contact us today at (818) 225-8239 or drop by and we will help you pick out an RV for your next trip. If you already know what you need and want, go ahead and make your motorhome reservation today!