Blog
---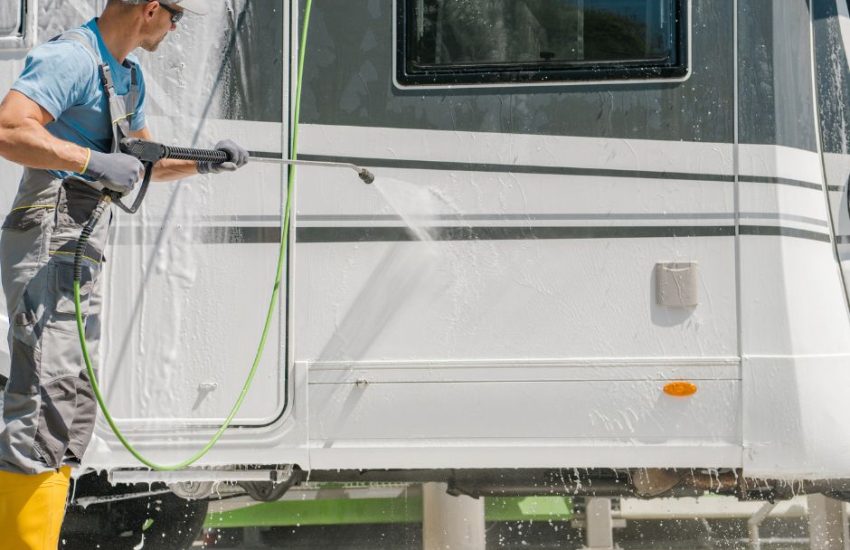 <------ back
Top 10 Tips for Maintaining Your RV
Posted on Apr 27, 2023
Here at Expedition Motorhomes, we know a thing or two about maintaining motorhomes. With a vehicle fleet as robust as ours, RV rental care is a top priority. It is our goal to ensure that every RV that leaves the lot is both clean and fully operational, no matter how many miles it has seen.
If you are a motorhome owner, maintaining your RV is just as important. There is a seemingly never-ending list of tasks to be done, and outlined below are 10 basic tips for maintaining your RV to ensure it is always road ready.
1. Read the Manual
This tip is a catchall but is imperative! By reading your RV manual, you can better understand and schedule the type of maintenance required to keep the many facets of your vehicle running smoothly.
2. Regularly Check The Roof and Seams
One of the most common problems RV owners experience is internal leaking. To stay on top of this, closely examine the roof, windows, vents, and air conditioning units every three months at a minimum. If you live in a wetter environment – or store your RV exclusively outside – consider doing this even more often. Should you notice any leaks, fix them immediately with the proper sealant. While on your roof every few months, give it a nice clean, as this part of a motorhome is the most often neglected.
3. Clean your Awning
Similar to the roof, motorhome awnings are often overlooked. However, because they are exposed to the elements regularly, they can easily wear thin and grow mold. Cleaning your awning after every RV trip is a good way to help increase its longevity.
4. Keep an Eye on your Waste Water System
Having plumbing on the road is one of the best and most luxurious features of a motorhome, but if it breaks, you could be in a world of trouble. Thankfully, maintaining your water system is easy. Make sure you are using the right chemicals, completely flush it on a regular basis, and check the holding compartments for any unusual buildup, clogging, or system failures.
5. Maintaining your RV Generator
Similar to having access to water, your motorhome's generator and electricity are a true luxury when camping. Each RV is different, and you should familiarize yourself with the manufacturer's recommendations when it comes to changing oils and filters on your generator. If possible, try to fire up your generator when it is in storage to prevent any weird buildup during extended periods of dormancy.
6. RV Slide Outs
Many RV owners don't think about a slide out as something that needs to be maintained, yet it is critical. Dirt and grime regularly build up around the seals, and cleaning these areas is essential for proper function. Cleaning and lubricating slide-outs a couple of times a year will help ensure their longevity.
7. Tighten Lug Nuts
Motorhomes are huge vehicles, and safety on the road is a top priority. Before every road trip, check and tighten your RV wheel's lug nuts. Loose nuts could lead to losing a wheel while driving, which – of course – would lead to much bigger problems.
8. Check Tire Pressure
While you are tightening lug nuts, check your RV tire pressure as well. Again, RVs are massive machines, and little differences in tire pressure could lead to major issues. Low tires can affect gas mileage and make your vehicle harder to control. Overinflated tires can explode. Because many RVs are travelling around the country in different environments – or sitting dormant for months at a time – tire pressure can change more regularly than your daily driver.
9. Mind your Brakes
Working brakes are critical to safely travelling in an RV. These massive vehicles can pose a real threat should your brakes not be up to standard. You should have your brakes checked once a year to ensure they are in good condition and to avoid expensive repairs that may be needed should you neglect this simple task.
10. Change your Oil
Motorhomes are unique in that they often spend much of the year sitting in a campground, storage bay, or parking lot. Still, it is critical to change your oil once each year or – at a minimum – every 3,000 miles. Big RV engines can see a lot of expensive damage should you continuously choose to skip this simple maintenance need.
With such a big motorhome fleet rentals in Los Angeles, at Expedition Motorhomes, our RV rentals care may look a bit different than yours at home. Still, though, it is essential to pay close attention to your vehicle's needs – both inside and out. Maintaining a list and creating a schedule helps us stay organized and guarantee each vehicle we send off the lot is in top shape. It may help you to do the same or, to make it way easier on yourself, skip buying an RV and rent one from Expedition Motorhomes for your upcoming road trip adventure!