Blog
---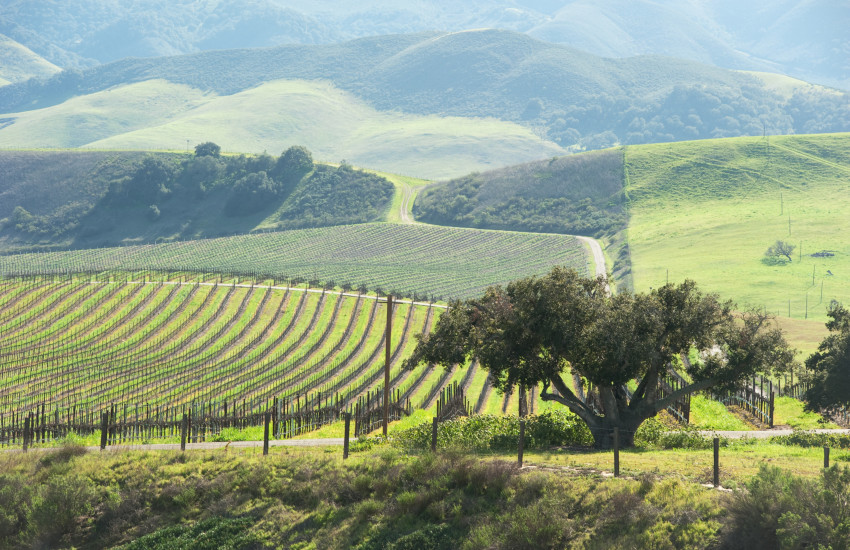 <------ back
The Central Coast: A Vagabond's Guide to Vistas, Vineyards and Vapors
Posted on Aug 18, 2014
When should you drive the Highway 101?
Late summer is the perfect time to take an Expedition Motor Homes RV journey north along the Central Coast of California. Highway 101, between LA and San Francisco and beyond, hugs the coastline, where it is usually cool, especially at night. There are many Route 1 arteries along the way, leading to beaches and attractions. Turn right at any intersection on the journey and be above the first range of coastal mountains, within a half hour.
Vapors abound. The west-facing beaches of the Central Coast are often fogged in at morning, while the south-facing beaches are sun-drenched. The water is almost always cold. Stunning vistas are too numerous—you will have to choose. Your destination might be Big Sur, but you might get sidetracked in Santa Barbara and never drive on. Vineyards line the coastal areas, with countless small operations utilizing the microclimates of their narrow valleys to produce delightful regional filtered and unfiltered wines.
If you've read the mystery novels of author Sue Grafton, you know that her fictional sleuth Kinsey Millhone "lives" in Santa Teresa, aka Santa Barbara, two hours north of Los Angeles and one of many mission towns on the tour. SternsWharf extends far into the Pacific Ocean and offers wonderful views. The Santa Barbara Mission, built in 1786 and the tenth of twenty-one missions along the coast, offers tours and a gift shop on ten acres of beautiful landscaping.
Popular RV facilities and stops
Located just north of Santa Barbara, the Gaviota and Refugio State Beaches have RV popular camping facilities. Spaces fill up fast. Call (800) 444-7275 to make a reservation.
North and east of Route 101 is picturesque Solvang, a Danish community famous for pastry, distinctive architecture and a thriving wine industry. If you saw the bawdy and hilarious movie "Sideways," you saw Solvang. You can visit the very wine bars where "Myles" opined about wine and the beautiful Sandra Oh waited tables.
Pismo Beach is another two hours north on 101 to Coastal Route 1. The Pismo Beach North Campground has an enormous eucalyptus grove which is the winter home for many thousands of monarch butterflies. This writer has been in this grove at Christmas, when you couldn't see the trees for the butterflies.
If Pismo is fogged in, drive north a few miles to Avila Beach and camp at Port San Luis. Email camphostatportsanluis.com, or call (805) 903-3395. You will not want to leave.
The next stop is the wonderful city of San Luis Obispo. Many biking and hiking trails are in the surrounding mountains, for all different levels of skill. The nearby town of Morro Bay, its small rock outcropping on the beach the last of The Seven Sisters Peaks. (You can easily hike three Sisters in a day.) MorroBay state park has camping, a natural history museum, a heron rookery, wonderful seafood and a golf course with spectacular views of the bay and the Pacific.
Continuing north, you will pass the tiny artisan community of Harmony. Stop at the HarmonyHeadlandsState Park, a new day use park with a 1.5 mile easy trail that takes you to a spectacular unspoiled view of the Pacific. The crowds haven't yet discovered this gem of a coast trail. Watch for fox, gray and blue whales and sea otters.
Further north is historic Hearst State Beach campground and, of course, Hearst Castle, legendary home of 1930's newspaper magnate Randolph Hurst and a rumored movie star den of iniquity. See "Citizen Kane." The castle is knickknack heaven. Just past the castle is a parking area on the beach side of the highway. Below, on the beach, is a rookery for gigantic elephant seals. You can get within thirty feet of these magnificent creatures who bring new meaning to sunbathing. The elephant seals are a poet's and a writer's and a photographer's dream.
We stop here, dear readers. Big Sur is just ahead, with one of the most spectacular drives you could ever experience, all the hikes you would ever desire, lots of poison oak and stunning ocean views.
Let Expedition Motor Homes in Calabasas, California, convenient to the Los Angeles area, help you pick the right vehicle for your Central Coast adventure. Renting an RV is perfect transportation and a home on wheels for large families or just a couple.
If you're flying in for your vacation, Expedition Motor Homes will pick you up and return you to LAX. Call (888) 699-6792 for reservations and more information.