Blog
---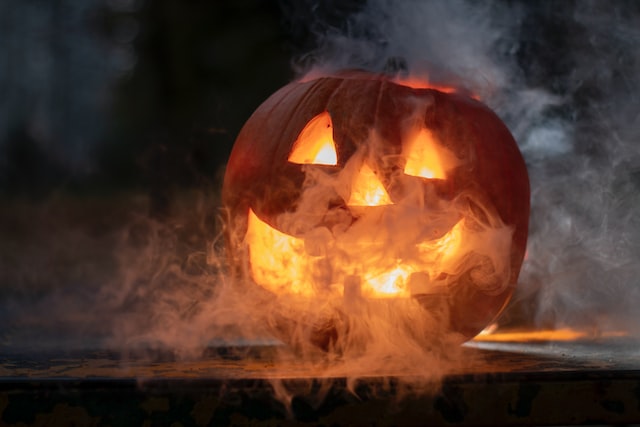 <------ back
Take a Spooky Camping Trip this Halloween
Posted on Oct 07, 2022
Spooky season is almost here, and there's no better time to book a California RV road trip. As one of the leading providers of RV rentals in California, Expedition Motorhomes firmly believes that autumn is the best time to visit The Golden State. Perfect weather, fewer crowds, and ample adventures await – all contributing to why a California RV road trip in the fall is one of the best vacations out there. If you are hoping to add a little Halloween spirit into your upcoming California motorhome escape here are a few destinations and ideas to consider!
Spend a Day at One of California's Famous Theme Parks
California has some of the best theme parks in the country, if not the world, and each of them does something a little bit special for the Halloween season. Whether you plan on sticking around the southern part of the state during your California RV road trip or are hoping to really take off, it is easy to pencil in a day on either end to visit Disneyland, Universal Studios Hollywood, or Knott's Berry Farm to embrace the Halloween spirit. Each park boasts special events, scary characters, seasonal installations, and a plethora of other scares and surprises throughout the month of October.
Embrace the Classics
Camping itself, whether in tents or California motorhomes, can lend itself to a certain level of spookiness without much effort. Sleeping outside in remote locations is not comfortable for everyone, and if you are hoping to add a little fun-filled fright to your trip after reserving RV rentals in California just lean into the classics! Ghost stories around the campfire are a great way to spend time with your travelling companions while being creative and harnessing the best of the season. Throw in some s'mores and you're all set! Additionally, nighttime walks can be a great way to experience the wilderness and promote a little friendly discomfort. Forests can make a lot of noise after the sun goes down, and night hikes are a great way to experience both nature and the best of the Halloween season. You may be surprised by the tricks your eyes play on you, the shadows cast in the moonlight, and the sounds heard when quietly moving through the woods at night!
Decorate Your Campsite
Just because you are travelling in California motorhomes doesn't mean you can't decorate your "lawn" like you would at home. If the goal is to make this camping trip a spooky one, buy some Halloween lights and decorations to bring with you on the road. Fake tombstones, spiderwebs, skeletons, ghosts, and monsters are all classic, easy to pack, and will add an undeniable level of Halloween spirit to your California RV road trip.
The experts at Expedition Motorhomes – the leading provider of RV rentals in California – couldn't be more excited for the fall road trip season. There is no better time of year to experience The Golden State, and the added festivities of Halloween only add to the magic. Whether you are looking for more festive recommendations or are ready to reserve your California motorhomes give us a call today! Our team is always eager and happy to help!