Blog
---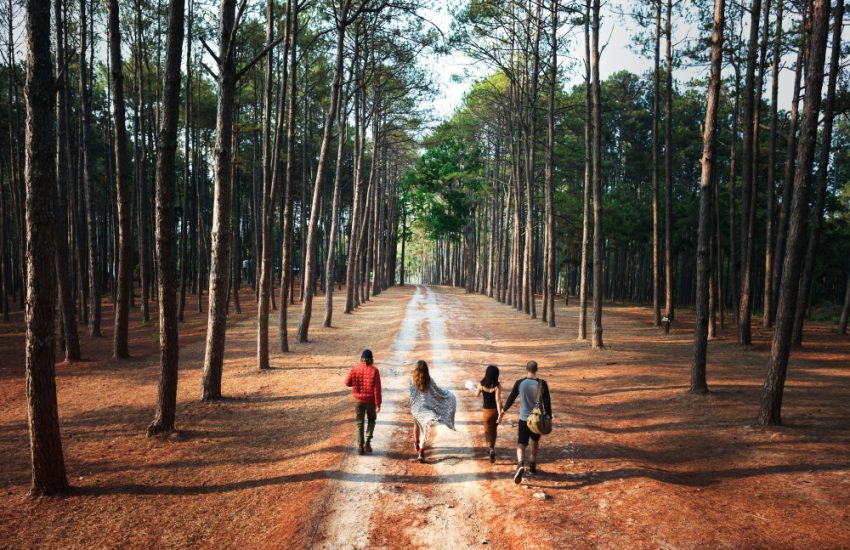 <------ back
RV Trip Based on Personality and Interests
Posted on Jul 30, 2021
Planning The Best RV Trip—Finding Common Ground
It isn't easy being the activities director for the RV road trip. Whether with friends or family, it is going to end up being pretty much guaranteed that everyone is going to have different interests and agendas.
So, planning a road trip that addresses everyone's wish list is challenging. The only thing that everyone might have in common is that they all like the idea of renting an RV and having some fun. But it seems like they just all want to head in different directions.
Some people are soul-searchers, some are adventurers, some want to take a long lot of people, some would prefer to get away from people, some just want to relax, and others want an education. So, who gets their wish? You know what they say, "you can't please all of the people all of the time."
Are Some RV Trips for Everyone?
If you live in California, the biggest challenge is deciding. It's all here. With coastline to Sierras, amazing national parks, wine country and an ideal climate, you have a better chance of pleasing everyone as you travel through this state than just about anywhere else.
Knowing which routes to take is not necessarily common knowledge. Fortunately, at Expedition Motorhomes we have some experience with RV rentals and RV trips. Hope you don't mind making we make some suggestions.
Some RV Rental Trip Suggestions
Hit the Beach and More:
This route follows the California coastline through Malibu, Long Beach, Dana Point, and San Diego. These are home to some of Southern California's best beaches. The drive is relatively short between each destination, which can give you more time to be in each location. One of the advantages of this route is that it provides access to both beautiful beaches and major metropolitan areas.
The attractions on this route are numerous and many of them are beaches. These beaches include La Jolla Cove, Laguna Beach, Newport Beach, Hermosa Beach, Venice Beach, Santa Monica Beach, and Zuma Beach.
But for all those on your trip that prefer other kinds of attractions, like more family-friendly places, there is the San Diego Zoo, Coronado Island, Sea World, Legoland, Universal Studios, Aquarium of the Pacific, Santa Monica Pier, Hollywood Boulevard, Beverly Hills, Naples Canals, Disneyland, Griffith Observatory, whale watching, surfing, or hiking in Malibu.
Days of Wine and Romance:
There is more to California wine country than Napa and Sonoma. This route winds through Santa Barbara, Buellton, Paso Robles, and Monterrey. This is California's other wine country. Many like it better.
This is one laid-back trip, but if you are with the one you love, this is a dream come true. You can see top wineries like Santa Barbara Winery, Kunin Wines, Fess Parker, Koehler, Beckman, Bridlewood, Croad Vineyards, Aronhill Vineyards, Dao Vineyards, CAstoro Cellars, and Doce Robles. You can also enjoy activities like wine and brewery tours, State Street, Santa Barbara Courthouse, Stearns Wharf, Solvang (Danish Village), Hearst Castle, Fisherman's Wharf, Lover's Point, Cannery Row, and the Bixby Bridge.
The Sierra Road Trip:
On the other side of the state, you can travel through Joshua Tree National Park, Sequoia National Park, Yosemite, and Lake Tahoe. If you prefer the outdoors and national parks, take this route.
California has more national parks than any other state. This route takes you to 4 out of 9 of them. So, if hiking, kayaking, or biking is more your bag, this is the trip. Here's the list: Arch Rock, Cholla Cactus Garden, Ryan Mountain, Skull Rock, Keys View, General Sherman (the sequoia), Mount Whitney, Giant Forest, Moro Rock, Tunnel Log, Half Dome, Yosemite Valley, Glacier Point, Yosemite Falls, Tunnel View, El Capitan, Bridalveil Fall, Emerald Bay State Park, Sand Harbor, Humbnewt-Toiyabe National Forest, and Commons Beach.
A Bit of Everything:
This route will take you to San Francisco, Napa Valley, and Fort Bragg, to the Redwoods. This trip is bound to turn your head and maybe give you a little whiplash. You'll go from the Golden Gate Bridge to riding a trolly, to Northern California wine country. Then go from San Francisco skyscrapers to the tallest trees in the world.
This route includes some of the most famous attractions in the country, like The Golden Gate Bridge, Alcatraz Island, Fisherman's Wharf, Lombard Street, Chinatown, The Bay Bridge, Painted Ladies, Oxbow Public Market, Sugarloaf Ridge State Park, Bothe-Napa Valley State Park, Castello di Amorosa, Glass Beach, MacKerricher State Park, Mendocino Coast Botanical Gardens, Trees of Mystery, Jedediah Smith Redwoods State Park, Prairie Creek Redwoods State Park, Fern Canyon, and Gnew Bluffs Beach.
There's Enough California for Everyone
Whatever your preference or pleasure, there is something in California for everyone. The routes we've listed should get you started. Each one is structured to include as much diversity and activities to please everyone on your RV journey.
If you have questions about our RV or motorhome rentals, don't hesitate on reaching out. You can either submit a contact form or give us a call. We are here to help you plan the best road trip possible.