Blog
---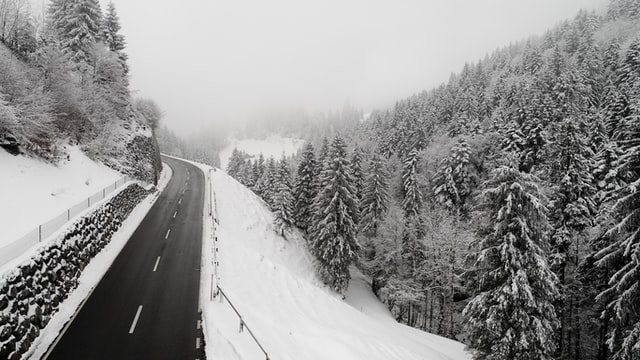 <------ back
How to Prepare your RV for Winter
Posted on Jan 04, 2022
Just because winter is here, it does not mean that you need to put your California RV rental road trip dreams on hold. In fact, in many ways, taking your Calabasas RV rental during wintertime can be much more fun than a similar trip in the summertime. Why? Well, because during the winter months there are more California motorhome rentals to choose from, fewer vehicles on the road, and quieter RV campgrounds and destinations. That being said, if you are planning a winter RV rental road trip, there are some added precautions to take to ensure that you are prepared for potentially cooler nights or slippery roads – especially if you head into the mountains of California or the colder regions of neighbouring states.
Below are 10 items you should consider bringing along with you on your California RV rental adventure during the winter months!
Winter RV Camping Essentials:
1. A Sturdy Shovel
If you are travelling somewhere with a lot of snow, you may need to dig your motorhome out after a storm or free up your pipes to prevent them from freezing.
2. Gloves
These may have already been on your packing list, but a good pair of insulated and/or waterproof gloves can go a long way in keeping you comfortable when playing in the snow, setting up your campsite, or tinkering with any outdoor mechanical needs.
3. Headlamps
During the winter months, daylight hours are already shorter. As such, be sure to pack headlamps for you and your travel companions to avoid getting caught in the dark while playing outside or working around camp.
4. Extra Blankets
While our Calabasas motorhome rentals are built for comfort, staying cozy while winter camping is critical. Don't be afraid to bring your favorite comfy blankets on your adventure so you can cuddle up in the evenings after a long day exploring a winter wonderland.
5. A Winter Sleeping Bag
Again, comfort is paramount when camping in the wintertime. Packing a winter sleeping bag is a good way to stay warm and provide a little extra peace of mind in the unlikely event that you find yourself in an uncomfortable situation away from services.
6. Tire Chains
Speaking of uncomfortable situations, tire chains are a great way to insure against them. Depending on where our travels take you, tire chains are a great way to provide much-needed traction on windy and snowy mountain roads and passes. If you plan to visit places like Yosemite or Lake Tahoe in your California motorhome rentals tire chains are a must!
7. Space Heaters
If you are really concerned about heat in your California RV rental, consider traveling with a space heater to use in addition to the standard onboard propane heater. Space heaters are also a good way to save on fuel if that is at all a concern.
8. Water and Food
Whether you are driving a car or California RV rental, it is always a good idea to carry extra drinking water and food with you when traveling in the winter. You never know when weather may kick up or your vehicle may have a maintenance issue. Having a few days worth of hearty food and unfrozen water is a great way to ensure some extra comfort on the road.
9. Blow Dryer
Depending on your level of adventure, you may be trying to camp in places where nighttime temperatures drop well below freezing. If that is the case, bring along a blowdryer! It doesn't happen often but when RV pipes or hoses freeze a blow dryer will be your best friend in defrosting!
10. Plenty of Games and Movies
While summertime road trips are all about maximizing your time outside, winter road trips are a great way to spend some quality time indoors after exploring a beautiful place with your family all day. Bring along plenty of games, puzzles, and movies to maximize those cold evening hours after the sun goes down.
There are countless reasons why a winter RV rental road trip is the perfect vacation, and with just a little extra preparation you can guarantee to make it just as comfortable as a summer getaway.
As the leading provider of California motorhome rentals, the experts at Expedition Motorhomes are here for you! Give us a call at (818) 225-8239 with any more winter camping questions, destination recommendations, or to reserve your RV today!