Blog
---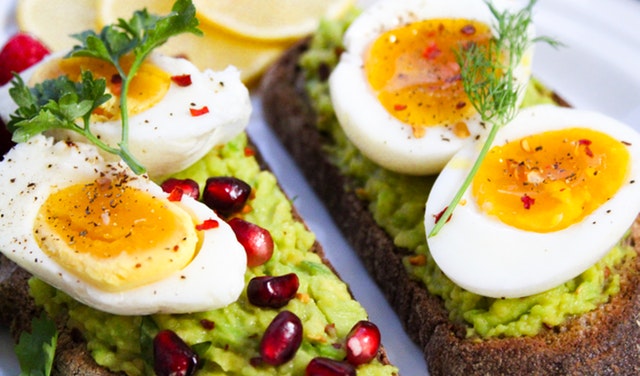 <------ back
Easy and Healthy Meals to Cook in an RV
Posted on Mar 30, 2022
RV living comes with many perks, especially when compared to traditional camping or traveling from hotel to hotel. With a motorhome, the road is your canvas and you can paint it however you would like from destination to destination. Instead of having to unpack and repack a car at every stop, all of your belongings can be neatly organized inside for the duration of your travels. At the end of a long day on the road or a big day full of adventure, there is no uncertainty on where you will be sleeping or how clean and comfortable the ground or hotel bed will be. And when it comes to meals, you can eat like royalty! Forget huddling around a small camp stove as you try to cook for your entire family or going out to restaurants day in and day out.
All RV rentals from Expedition Motorhomes come with a fully functional kitchen that allows you to enjoy home-cooked meals on the road, no matter where your home is parked for the night. Cooking for yourself will not only save you money, but it will help you eat better and stay healthy while on the road.
Check out some of these classic ideas for easy and healthy meals to cook while on your RV road trip.
Inventive Salads
Salads are a great addition to any meal, and with a little bit of creativity, they can actually serve as the main course as well. After looking up some fun and unique inventive salad recipes online, check for local farmer's markets on your road trip itinerary. California, in particular, has some incredible farmer's markets year-round, with great selections of tasty, healthy, and organic fruit and vegetable options. Round out your fruit or veggie salad with a local protein to make it even heartier and enjoy an easy, healthy, and delicious salad dinner on the road.
Stir Fry
Stir fry is a time tested favorite that can be catered to every type of taste bud. It is easy to let everyone in your family customize their own plate. Make a big pot of rice or noodles, select a bunch of vegetables (again, check out local farmer's markets!), and let everyone choose what they want on their plate. Make a big dish for everyone or cook each plate individually. Spice it up to your desired taste, and enjoy!
Sandwiches
Not every meal cooked in your RV needs to be extravagant. Long days sometimes require super easy meals as well, and there's nothing easier than whipping together sandwiches for the family. You can follow the stir fry method and allow every family member to "build their own" sandwich – choosing which ingredients they want to slide between slices of bread. Sandwiches are a fun and easy way to get the whole family involved and make plates to order, ensuring that even the pickiest of kids are getting a healthy, and easy, meal in their stomachs!
Barbecue
Perhaps no meal goes more hand in hand with motorhome living than barbecue. This easy and healthy dinner has countless options and also allows you to enjoy the great outdoors with your family while the meal is cooking. From burgers and hotdogs to grilled vegetables and shish kabobs, you have countless nutritional options at your fingertips. If you didn't pack a small barbecue grill with you, don't fret. Many RV campgrounds come equipped with grills and the onsite stores will typically carry all of the charcoal and lighter fluid you need!
Just because you are on the road doesn't mean you can't enjoy a nice home-cooked meal. In fact, that is one of the many perks of traveling via motorhome! No matter where you land for the night, your full kitchen is in tow and the options for easy and healthy meals are virtually endless. Bring along your favorite cookbook or invest in one of the many motorhome specific cookbooks in publication. And don't forget to check out markets and regional delicacies to add some local flair to your dishes!