Blog
---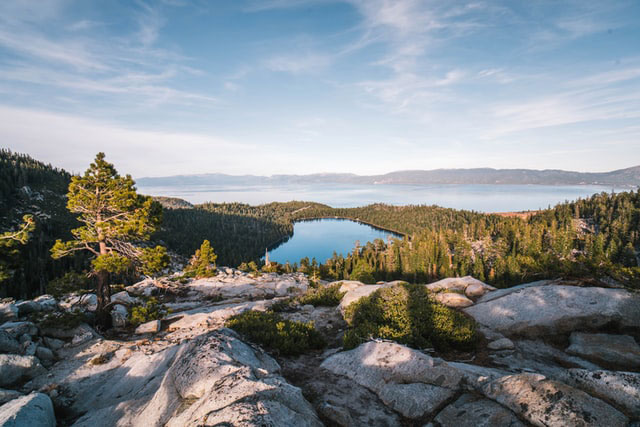 <------ back
6 Lakes to Visit in California
Posted on Aug 25, 2021
Summer is the perfect time to book Los Angeles motorhomes rentals and explore The Golden State. With the beautiful sunny weather, when taking on a California RV rentals road trip, you will need to devise a plan on how to beat the heat.
Even though California may be most famous for its many beaches dotting the Pacific Coast, there are many beautiful, refreshing, and relaxing lakes to visit in your Los Angeles RV rental as well. What follows are six favorites lakes from the California RV rentals experts at Expedition Motorhomes.
Lake Tahoe
It should come as no surprise that Lake Tahoe is one of the best lakes to visit with your Los Angeles motorhomes. As the largest alpine lake in the country, this beautiful body of water is nestled in the Sierra Nevada Mountains. Lake Tahoe offers everything from rustic to luxury campgrounds, motor-boating to standup paddleboarding, and quiet campfires to robust nightlife.
Big Bear Lake
One of California's finest lakes is located just a hop, skip, and jump from Los Angeles. Its location makes it the perfect quick getaway in your LA motorhome rental. Not only does Big Bear Lake boast a plethora of beaches and hiking trails, but it is also a great boating lake. Furthermore, its beautiful location sits in the mountains at 6,700'!
Mammoth Lakes Basin
If you are traveling with passionate hikers, point your motorhome, Los Angeles, to Mammoth Lakes. You will be able to explore the Mammoth Lakes Basin. You can drive to a few of these small mountain lakes. However, for even more solitude and beauty you can put in some miles in your hiking boots and access the many jewels tucked back in mountain valleys.
Mono Lake
For the geologically or ornithology-minded, or for those visiting Yosemite National Park in their California RV rental, Mono Lake is a must-visit. Tufa towers make for an incredibly unique landscape. The brines shrimp in the water are a major attractant to migratory birds. Additionally, the high alkalinity makes for fun buoyant swimming.
Lake Shasta
From hidden coves to sprawling rivers and fingers, Lake Shasta is the perfect body of water for those travellers wired for exploration. As California's largest reservoir there is no shortage of secrets to uncover. The shoreline and adjacent forests are riddled with spectacular places to park your LA motorhomes.
Bass Lake
Bass Lake is north of Fresno in the Sierra National Forest and provides a warmer alternative to other Sierra lakes. With excellent hiking, fishing, and swimming opportunities Bass Lake is a great California RV rentals destination for the entire family.
California is home to countless road trip destinations. At Expedition Motorhomes, we have a special appreciation for the many lakes of The Golden State. From hidden mountain lakes to bigger bodies of water perfect for boating, there's nothing quite like spending a hot summer day on the water. Thankfully, with California RV rentals from Expedition Motorhomes, you can easily access some of the best lakes this wonderful state has to offer. Give us a call to inquire about our rental fleet or make a reservation today. Our passionate staff is always here for you!